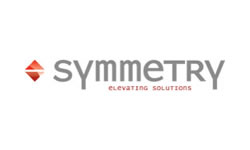 Vertical platform lifts, also known as wheelchair lifts, are constant pressure lifts that can eliminate the barrier stairs provide for people with limited mobility. Wheelchair lifts can be a cost-effective solution when adding wheelchair accessibility to your home or commercial building. Wheelchair lifts can also be a convenient alternative to a space-consuming ramp. With Symmetry and Bruno being our main trusted wheelchair lift providers, we have several models for you to choose from. All models come with a 750 lb. lifting capacity and several customization options. We also offer free, in-home estimates with one of our lift specialists to help you decide which lift will best suit your needs.
---
Residential Wheelchair Lifts
Most residential wheelchair lifts are unenclosed lifts designed for lifting heights up to 60 inches. These types of lifts are typically used as porch lifts or garage lifts and require little to no site modifications. Residential wheelchair lifts can either be mounted directly to the floor or in a shallow pit. An underneath safety pan used to detect obstructions comes standard on all residential lifts.
---
Commercial Wheelchair Lifts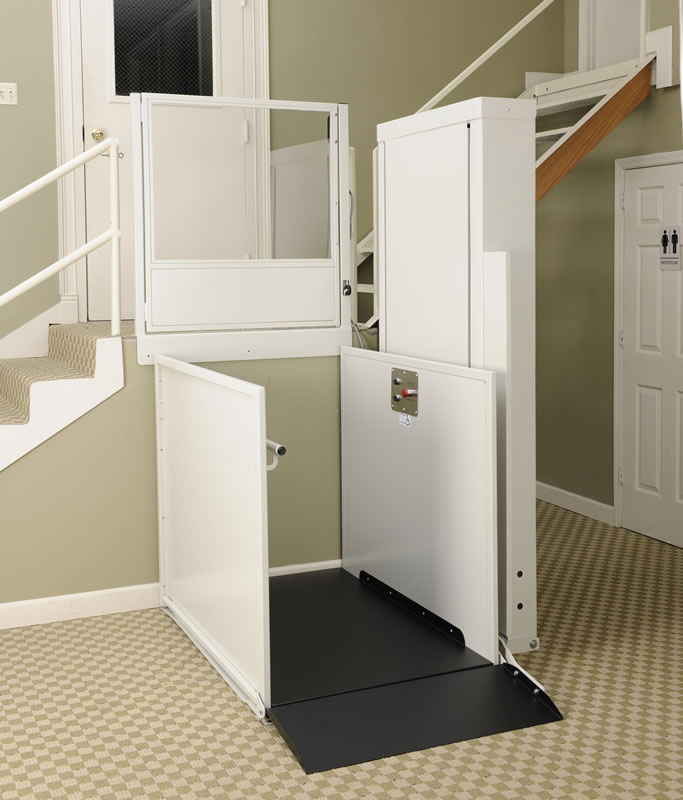 Like the residential unenclosed lift, this commercial wheelchair lift is designed for lifting heights up to 60 inches and site modifications may not be necessary. When cost or space is the primary concern, an unenclosed wheelchair lift might be the ideal solution. Unenclosed platform lifts can provide wheelchair access to porches, stages, office entrances, and other commercial settings.
---
This type of lift comes with an integrated enclosure. Enclosed wheelchair lifts can travel up to 168 inches. Several customization options are available including an enclosed lift with plexi-glass panels (as shown). Roof and ventilation fan options are available as well. You may see this type of lift in parking structures, airport terminals and/or providing access to stadium seating.
---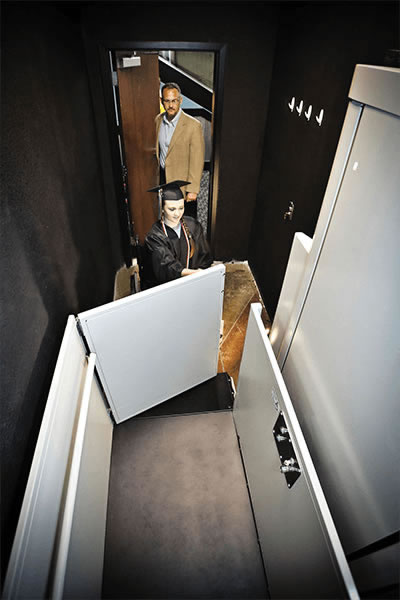 A shaftway vertical platform lift is designed for enclosed shaftway applications in public and private facilities. This type of lift can travel up to 168 inches and several customization options are available. Construction modifications may be required as this type of lift is typically placed in shaftway or hoistway built by others.
---
Symmetry Hybrid Lift
This hybrid lift may look and feel like an elevator, but it runs and functions like a lift. This lift comes in many different sizes and configurations. Optional features include a full height car, non-load bearing ceiling and a wide variety of cab customizations and finishes for you to choose from.
If you are interested in seeing our vertical platform lifts, please contact 615-442-0462 to schedule an appointment with a lift specialist. We have an unenclosed wheelchair lift in our Nashville showroom available for viewing.
Please take a look at our Wheelchair Lift Gallery.